Hi, I'm Yuzo Ochiai,
Interpreter / Translator in English-Japanese,
either for business or private.

* Obtain and translate family registers (sample)
* Find your remote relatives in Japan (see below)
* Escort you as an interpreter and a guide in my car
* Write emails to your targeted people (more info)
* Make phone calls to send messages (more info)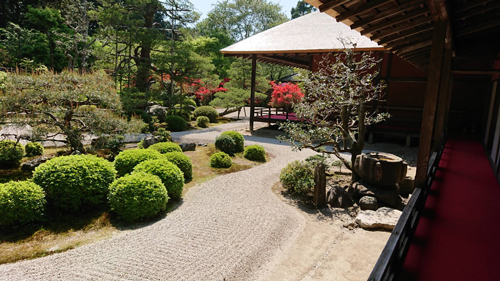 Looking for someone in Japan you can rely on?

My name is Yuzo Ochiai, a native Japanese male from Osaka, Japan, an interpreter and a translator. I Lived in the U.S. from 1969 to 1976, received a Bachelor of Arts degree in Music from California Institute of the Arts in 1976 and have been in this business ever since.

My aim is to be an exellent interpreter as well as a reliable supporter with one hope in mind that you will accomplish your intended assignment without fail. I will collect as much information as possible and carefully study it to prepare myself. We will exchange emails with each other frequently in advance, so that the steps and goals of your strategies are precisely grasped. These steps make things go smoothly and successfully in the actual meeting.

Email : Yuzo Ochiai Tel : +81-90-3973-1232

-----------------------------------------------------------------------------

My Clients Say:

This cute, nice couple came all the way from Australia to get married in Japan. There were many papers that needed to be translated into Japanese, but we succeeded in making their dream come true.


Patricia & Federico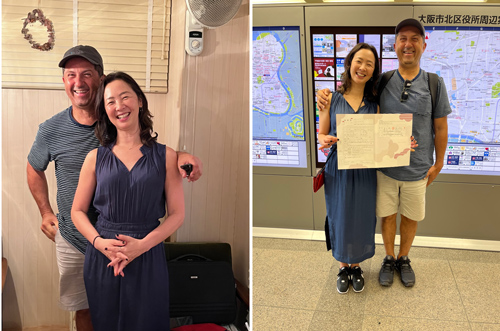 -----------------------------------------------------------------------------
"Ochiai-san and I have been working together professionally since 2017. He is particularly skilled at translating Japanese documents for genealogy research. Translating documents for genealogy is a nuanced. Ochiai is able to accurately reflect the contents in each document, keeping his valuable interpretations and conclusions separate."
Linda Harms Okazaki
Past President of California Genealogical Society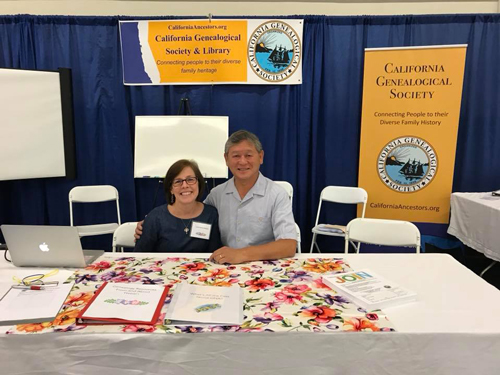 -----------------------------------------------------------------------------
I must give credit to Yuzo Ochiai, the Japanese translator I met through the class. I was successful because I had "boots on the ground" in Japan. Ochiai san figured out where to file requests for my family registries (koseki). If an office didn't have a registry, he asked officials where the registry might be found. He saved me a lot of time, trouble and money. Ochiai-san also determined where to search for relatives, based on the scant information I had, and he ultimately found them. Ochiai-san commented we were really lucky — not all his clients have been so successful.
Diane Honda and her Family from Tennessee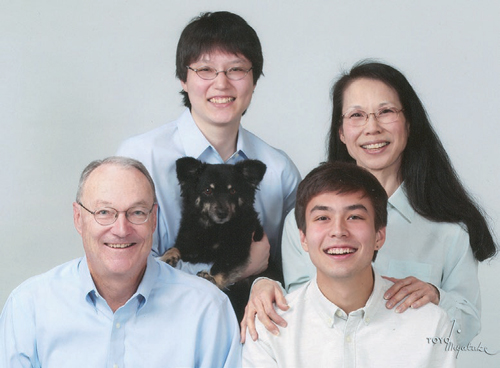 -----------------------------------------------------------------------------
After looking for a Japanese-English interpreter for my family and my trip to Kyoto, I was fortunate enough to find Yuzo san. I dialed his number in Japan, and lo and behold, he answered with "hello." Yuzo is very fluent in English, has a wonderful personality, and a very methodical approach to taking care of his clients' requests. My family and I wanted to arrange for my mother's remains to be buried in a temple in Kyoto, so Yuzo made an initial trip to the temple to speak in person to the reverend of the temple and set up an appointment for us to meet with this reverend. Well, the Osaka earthquake struck on that Monday (day of the meeting), but Yuzo made the very arduous trek from Osaka to Kyoto to keep the appointment for us. He then made another trip to the temple to be with us all during the hours long ceremony prior to burying my mother's remains. Yuzo explained everything to us and translated everything the reverend said. I cannot explain in words how comforting his presence was. We cannot thank Yuzo san enough for all he did for us. This thank you is from all the members of my family. Be it luck or destiny, I am truly grateful we found this wonderful person who now seems more like a friend in the wonderful country of Japan.
Velma Jenkins from Miami, Florida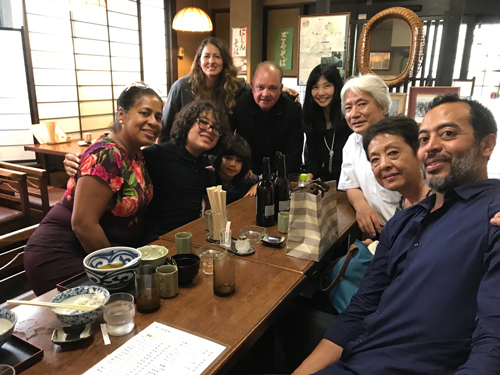 -----------------------------------------------------------------------------
Our adventure began when we decided to visit Japan to find the area where my father lived and died. He left Peru when I was young and was sent to the US to an internment camp. Later he was sent back to Japan and never returned to Peru. Seventy five years later, as we planned our trip, we found the address of his home and to our amazement, family still occupied the home. In need of a translator, we found Yuzo who took a personal interest in our story. He spoke with our family and organized a visit, which included driving us several hours and staying in the area with us as we learned about my father's history. It was wonderful to meet family and by the end of the trip, Yuzo became part of our family as well. We were very thankful for the fantastic job he did translating and for making this trip so personal for us!
Toni Bard & Viviana Shain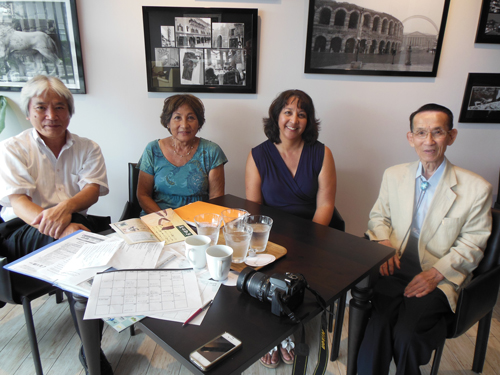 -----------------------------------------------------------------------------
I was thrilled to be able to reunite with a distant cousin of my husband's while visiting Osaka. I was more than a little nervous! I had no idea what to expect. Our meeting to say hello and talk about old family memories included Yuzo (who had studied the information I'd sent and came with color xeroxes of all the files I had sent him) It went really well - so well that they invited me out to dinner. It was a life-changing experience - and Yuzo was a big part of it.
Cathy G. Azuma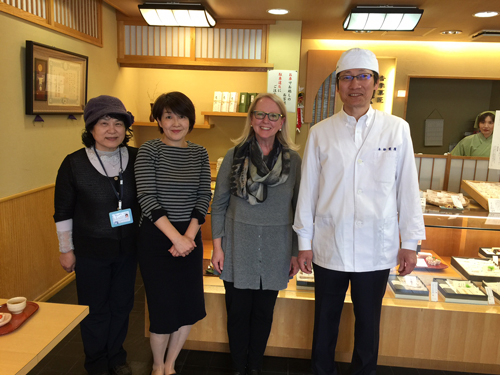 -----------------------------------------------------------------------------
I want to thank Yuzo for being a friend first. And, then to thank him for his superb abilities with Japanese and English! I have known Yuzo for many years, and have always appreciated his professionalism and attention to detail as he proceed to complete any task we worked on together. You will not find a more out-going, friendly, kind professional person than Yuzo! And, I am more of a better person because of our business relationship and friend relationship !! Thank you, Yuzo!!
Dino Crawley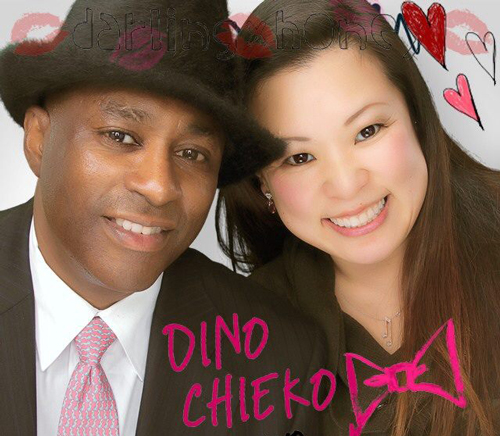 -----------------------------------------------------------------------------
Yuzo is a friend, a trusted colleague, and a wonderful host. His English & Art Institute can provide International business services including impeccable verbal and written translation for clients ranging from visiting family's to multinational corporations. The only people I've met in Japan more accommodating and fun are his friends and family.
Daniel Brosmer from Orlando, Florida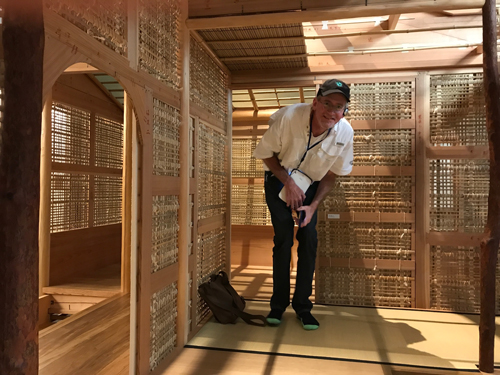 -----------------------------------------------------------------------------
Yuzo Ochiai. What can I say about this man? The real question is, what can't I say about this man.I am originally from Germany, and speak German and English, though my mother is Japanese.Whenever I am in Europe, it is not difficult for me to communicate in other European countries, and I did learn a few phrases from my "Japan" travel guide to try and help me along; but there was still a huge gap in communication. The people I met along the way tried their hardest to help me, even with the language barrier (the Japanese are very accommodating), but it became very frustrating for them I'm sure, and myself after repeated attempts.
Let me start from the beginning…
September of 2016, I decided to take my first trip to Japan. Ten years after the passing of my mother; I wanted to try and find my maternal roots. Since I had never really known that side of my family I decided to seek them out. I left Tokyo at 6 a.m. on the "Shinkansen" to Osaka with just an address to a Beauty Shop (all the houses in Japan on the same street carry the same house number), a phone number (the desk clerks at my hotel tried calling, but were unsuccessful) and the names of my two surviving aunts. I did find one of my aunts after 9 hours of searching with the help from a few of the locals.
To make a long story short, I was about to give up when I came across an elderly woman who also owned a shop in the neighborhood. She knew of my aunts, went next door to a barber shop and got a young man to translate for me, and then walked me around to where my aunts lived. Needless to say, it was quite the journey, and luck was on my side. Friends that followed my journey via social media commented that the spirit of my mother guided me that day to find my last surviving aunt. Well, upon leaving, I promised my aunt that I would return to see her before the year was out because her health is also failing.
Upon my arrival back to the United States, I informed my father of my aunts failing health and immediately booked a flight for the following April (2017) for my father, my son, and myself. Now, my father and my son tell me that they can both communicate in Japanese, but this time, my gut told me to secure a translator.
I went on line and searched for translators for literally a week; and the ones I came across seemed to sterile or didn't even respond in an expedient manner, until I found Mr. Ochiai. I e-mailed him, and found a response from him within the hour. We quickly established a Skype connection and spoke face to face on what exactly I was hoping to accomplish. I gave him the address that I had (even though I had already found her) and my aunts name, and within half an hour he had pinpointed where she lived. He did all of this for me, even before I had secured his services. I was impressed with him from the beginning with his diligence.
Now, one thing that I must express, and I'm sure that all can attest to, it that there are communication gaps with the young and the elderly in any language, because of slang terms and colloquialisms. And though I am grateful for the young man that translated for me the first time, I could still see some difficulty in understanding on my aunt's face. The older Japanese are very formal in the way they present themselves and their manner of communication… and Yuzo is very aware of how to communicate with the elderly, as well as the younger generation.
He was on point at acknowledging my aunts health issues and took care to make sure that she was comfortable (as well as ourselves) and not stressed either. The week that we spent in Japan, Yuzo became our tour guide, our translator, and our companion. He even took the time to make sure that my son (33) enjoyed his trip to Osaka as well. Yuzo was most receptive to the emotional stability of my father. He allowed my father to repeatedly bombard him with stories of Japan and meeting my mother over 65+ years ago. I think that was helpful to my father, mentally, because it allowed him some release and closure… so Yuzo became an ad hoc therapist for us also.
So… all this being said, Yuzo went above and beyond to make sure that my family, (on both sides), were comfortable with our experiences in Japan. I still have not been able to contact my cousins, but if my aunt passes, I still have a reason to return to Japan… because Yuzo is now part of my family and I often call him "Nīsan" meanng "Brother". Sincerely,
Michael Val-Ray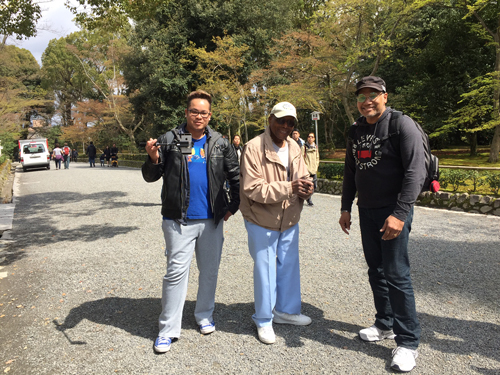 -----------------------------------------------------------------------------
Email :
Yuzo Ochiai
Tel :
+81-90-3973-1232
Thank you for visiting my website.